A 'visa-run' to Hong Kong is a trip which many teachers face during their time in China. With the exception of the time spent in the Chinese consulate with the visa application process, these days can prove to be a welcome holiday, and Hong Kong has a lot to offer for travelers on both a tight schedule and a tight budget. Recently I spent 3 days in Hong Kong, but in reality after time spent in the embassy and travelling to and from the airport, I had 1 and a half days of free time, and here is a taste of what I did, and hopefully you can find something which appeals to you for when you next visit…
Day 1
• 9am -11am Chinese Embassy – Expect queues and 'organized' chaos. There is usually a queue outside the building door, after which you throw away any food and drink (not permitted in the building), go through a security check and then are guided towards the elevator. Once in the correct room, expect more queuing until you eventually are called to a window where you can submit your documents for the visa application. Top Tip: Bring coins, as the photocopier machines require change to operate and there is a distinct possibility you will have to photocopy documents.
• 1pm-6pm Shek O Beach – I must admit I lucked-out a little when finding this gem. After spending all morning in the embassy, and looking at the glorious weather, I could think of nothing better than relaxing on a beach. So after spending barely 15 minutes or so on research I decided to just pick Shek O beach as it seemed to be the closest the main island… and boy am I glad it was the closest. To get here you take the metro to Shau Kei Wan station then take bus number 9 and get off at the last stop. When I arrived I was surprised to see just how beautiful the sand, beach and surrounding scenery was….without doubt the highlight of the trip. Top Tip: Bring sun cream, and lunch to enjoy eating on the beach (although there are shops and restaurants there too).

• 8-11pm Night Market – Although I am well accustomed to fake markets having lived in Shanghai for a while, I decided to take a trip down to the Hong Kong night market to take a look and explore the surrounding area. Take the metro to Jordan station and you will be able to find this busy and bustling scene. Here locals and tourists alike haggle for the best deals and gifts to remember their time in Hong Kong. I myself was content with just a nice bracelet, but here you can buy anything from clothes to electrical gadgets to souvenirs. The place has a great atmosphere and buzz. Top Tip: haggling for prices is allowed so don't be afraid of driving a hard bargain!
Day 2

• 5.30am – 9am Victoria Peak – I love my bed more than most, but I must say the early alarm was well worth it. From Central station take bus 15 up to the top of the peak, and on the way enjoy the stunning views from the bus as it climbs the steep slopes of the landscape. When I arrived, instead of going into the viewing tower I decided on a little pagoda to the right of it as it offered a more natural, peaceful and rural setting. I was able to watch the morning sun rise over the city and the view is truly stunning, even with the slightly foggy day which I was greeted with. Top Tip: If you plan on exploring the area bring comfortable trainers as the area is very mountainous.

• 10am-1pm Tian Tan Buddha – From Victoria peak I headed to The Big Buddha on Lantau Island. There are several ways of getting there, but from Tung Chung metro station I took bus no.23. The size of the statue is hard to gage through pictures alone and I was surprised by just how large it actually is. After the 268 step ascent to the top you are rewarded with a stunning view of the surroundings, and you can get the typical cheesy tourist photo! (see below) Top Tip: take a rucksack with drinks and snacks, as you will definitely be thirsty and in need of a drink when you reach the summit!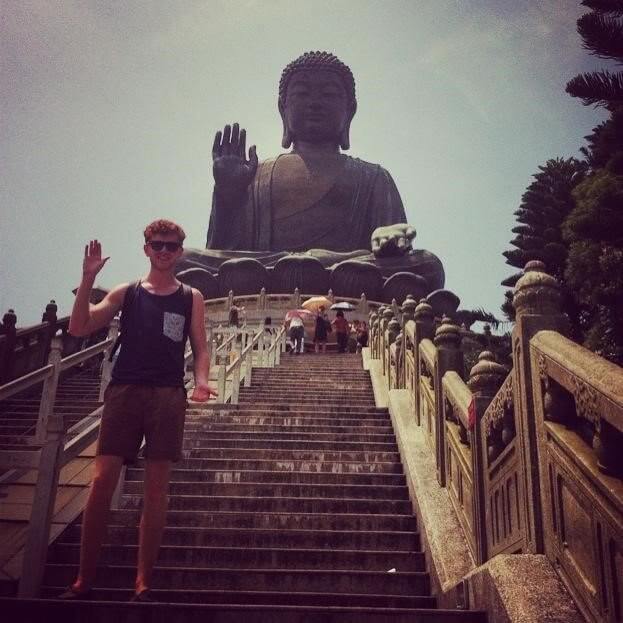 • 2pm-7pm Shek O Beach – After falling completely in love with the place I thought I must head back to the beach to soak up the rays whilst I could, so that's exactly what I did.

Day 3
• 10am-10.30am Chinese Embassy – The easiest part of the process, just take your piece of paper to the same room, go to the correct window, collect your visa….and you're done!!! Top Tip: Don't forget your receipt from the first visit as you need it.
Overall I had a fantastic time in Hong Kong, and even with minimal research (by which I mean none at all) I was able to go and see many of the main attractions which it has to offer. Hopefully this little insight helps you when planning your own trip to the island.
By Oliver Gorman, Personal Placement Consultant at Teaching Nomad
About our company: Teaching Nomad is an American owned and operated education Recruitment Company based in Shanghai, China. Our goal and purpose is to help great teachers find great teaching jobs. Year round, we have hundreds of teaching job vacancies. Whether your goal is to be an ESL teacher or teach in an international school, we have a teaching job for you. You can browse jobs online at www.teachingnomad.com/job-search for the latest job openings. Teaching Nomad is here to make teaching in China easier, so please feel free to reach out and contact us with any questions or inquiries!