Teach English in China
China offers high salaries, a low cost of living, and great travel opportunities!
View jobs
Why teach abroad in China?
China has numerous ESL opportunities available to native English speaking teachers. Foreign teachers can choose to teach English in a private language training school, or you can teach various subjects in a public school, an international school, or a university!
Teaching in China will not only provide you with many different opportunities, but it will also provide you with extra cash to spend on traveling or whatever else you'd like to do. Getting to China from your home country is the most difficult part because, after that, you can easily travel to and from the neighboring countries like Cambodia, Thailand, and Japan!
The opportunities to teach English in China are considered some of the best in the ESL market globally. This is due to high wages, low cost of living, and high demand for foreign teachers. Similar to the opportunities in South Korea years ago, but China is now the epicenter of teaching abroad.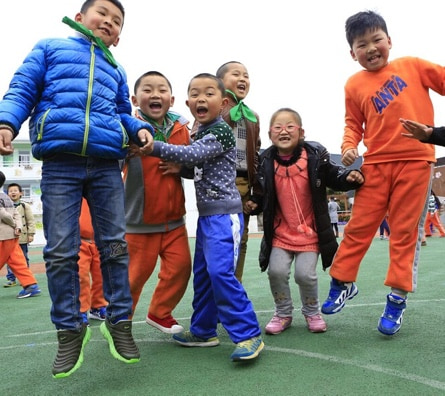 Requirements to teach in China:
Hold a Bachelor's degree
2+ years of teaching experience for K-12
No experience required for training schools
Native English speaker
Average monthly salary in China:
7,000 – 30,000 RMB / month
This varies based on experience, hours worked, and the type of school that you work in.
Cost of living per month in China:
2,250 – 11,970 RMB / month
This varies by lifestyle and city that you choose to live in.
Growth of the education sector
Chinese parents place a lot of value on the education of their children, and both the public and private education sectors are rising to meet this demand. Along with the spending power of the rising middle class, there are now literally 10's of millions of families that can afford to send their children to school with native English speaking teachers. Across the entire country, in cities you've never heard of, there is a demand for teachers, especially ESL teachers.
Also keep in mind that teaching is a service, and China has an ever-growing demand within the service sector of the economy. For teachers, this means that the growth in demand will continue to outpace the growth in supply, so teachers that do go to China will make a good amount of money. If you're ever considered teaching abroad or teaching in China, now is a great time to finally make your move!
The fastest-growing segment of education jobs in China right now is at the professional level. The demand for instructors that are experienced in the following curriculums: U.S./AP, local, and British National, as well as internationally accredited programs like International Baccalaureate (IB), has been steadily increasing every year. Meanwhile, the demand for recent university graduates and less experienced ESL teachers continues to outpace the supply of teachers.
Whether you're a newbie or experienced professional, we at Teaching Nomad will be sure to find a position that meets your needs.
Curriculums used in China
There are many different types of schools in China, and they use a variety of different curriculums. It's important to know a little bit about each curriculum so you can choose the one that you're most comfortable teaching and search for an overseas teaching job based on your preference. Even if you don't have a preference, it's helpful to understand which curriculums you may run into while teaching in another country. Some of the most common curriculums taught in China are IB, U.S./AP, local, and British National.
Learn more about other curriculums taught all over the globe.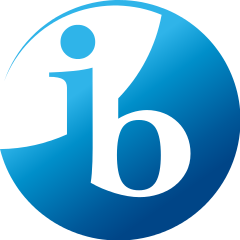 Teaching IB in China
As of 2020, there are over 173 schools in China that use the IB curriculum. This equates to thousands of IB teaching positions, many of which are available to foreign teachers. Learn more about teaching IB in China, and check out the history and an overview of teaching IB abroad in our blog.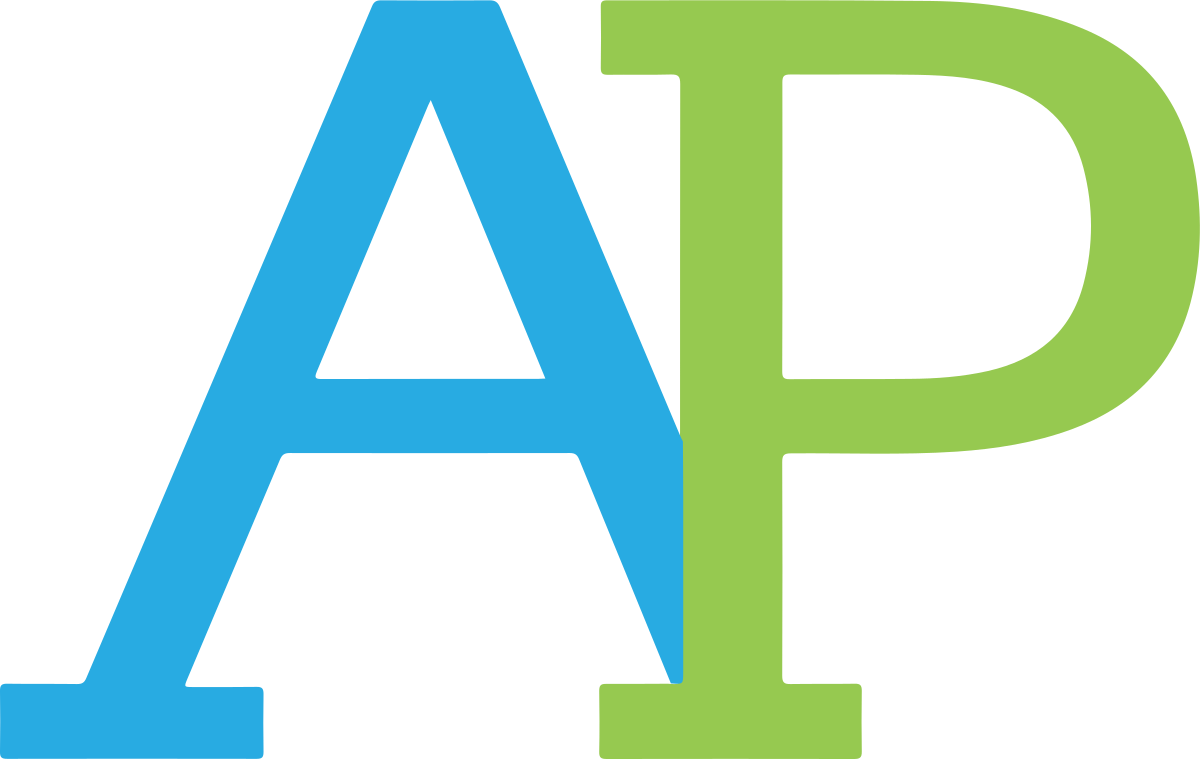 Teaching U.S./AP in China
There are many schools in China that offer AP courses to students. To be able to offer AP courses, a school must submit its curriculum to the AP program to ensure that the proper standards are being met. Teachers must prepare their students for the AP exams that usually take place within the first two weeks of May.

Teaching the local curriculum in China
Chinese national school curriculum covers similar subjects to the rest of the world such as math, science, social studies, fine arts & PE. However, they also include morality, ethics, and of course, the Chinese language. Traditionally, Chinese instruction has been lecture and testing oriented. More recently, some schools are shifting towards more student-centered instruction but the heavy emphasis remains on testing. Including the infamous GaoKao 高考, which determines entrance into higher education institutes.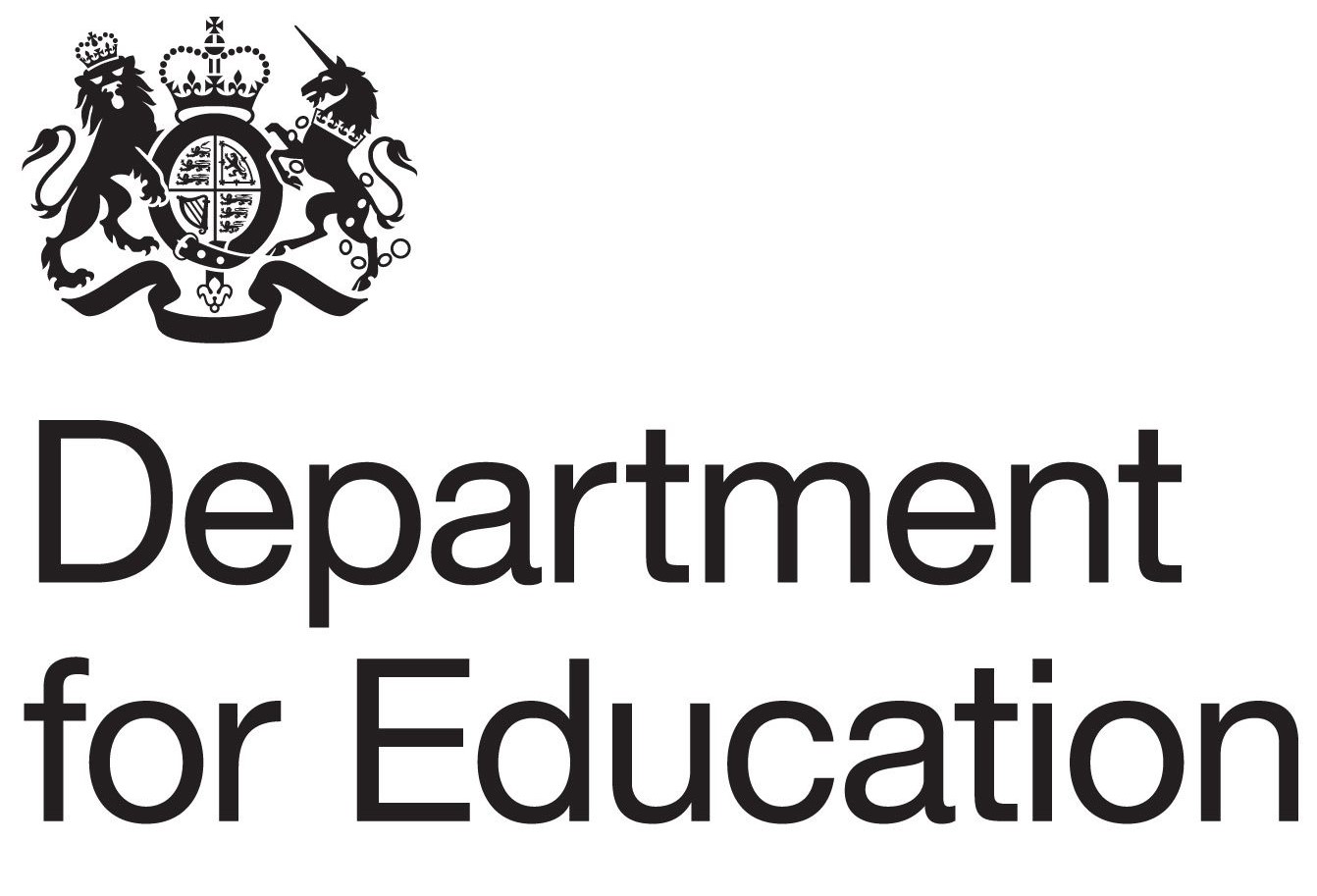 Teaching the National Curriculum of England in China
The National Curriculum of England is the set of standards used to through England & Wales to ensure that all children are learning the same things as they move through schooling. The curriculum is set out in 4 required key stages for students ages 5 – 16. With an optional key stage 5 for ages 17 & 18 (years/grades 12 & 13). Students attending international schools almost always include key stage 5, also known as college, in the British sense of the word.
The curriculum defines the fundamental aspects of learning including the subjects to be taught, the knowledge, skills, and development with each subject. The level of ability students are expected to achieve in the subject, and lastly how students will be assessed. With that framework, schools are free to plan and organize lessons as they see fit.
Accreditation for the National Curriculum of England comes directly from the UK Department of Education and includes a scheme for overseas schools, called BSO's (British Schools Overseas) to verify they meet the standards of UK schools.
Why consider teaching in China?
China spans over 1,700 miles north to south connecting Harbin in Heilongjiang province (home of the famous Harbin ice festival) to Hong Kong with its humid subtropical climate. Each city has a lot of individual character and the local people take a lot of pride in this diversity.
Opportunities to teach English in China are almost as diverse as the country itself. Different types of schools and different parts of the country can provide totally unique experiences. For example, a business English instructor in the mega-city of Shanghai will have a very different experience than a kindergarten teacher in Chengdu. Not only are the attractions in the cities different but also the local culture and language. Whether or not you prefer to be in a specific location, your placement consultant will work to find you a suitable city that appeals to you.
Teaching abroad in China opportunities include preschool, kindergarten, primary school, middle school, high school, universities, and adult training schools. Not to mention the demand for freelance and hourly lessons. A new trend is also online teaching, which grants the flexibility to work with learners across the country with tight schedules. Working with Teaching Nomad will ensure you a well-compensated position (even for beginners) based on your experience and qualifications.
Almost all teaching contracts in China are between 1 and 2 years. As the education market is maturing and the salaries are rising, schools do not want fly by night teachers that will leave their students hanging after a few months. Although beginner teachers are welcome, they need to take the position seriously and be prepared to honor their contractual obligations. And just remember- no matter where you want to go, there will be many teaching positions for you to choose from.
Shanghai
Beijing
Shenzhen
Guangzhou
Tianjin
Chongqing
Chengdu
Suzhou
Dongguan
Ganzhou
Huizhou
Zhuhai
Some parts of tier 1 cities could easily be confused with western cities. There are over 170 cities in China with 1 million+ people and dozens of them are tier 2 status. This means they likely have an underground metro system, airport, high-speed train station, definitely KFC (Chicken), and Starbucks! While many people are looking to teach in Shanghai because of its international reputation, tier 3 cities will certainly be more of an off the grid adventure. With limited access to imported goods and few English speakers, these cities will certainly grant you a full immersion experience.
Teaching Nomad has openings in all 3 types of cities stretching as far north as Harbin, near the Russia border to as far south as Hainan island in the South China Sea and as far west as Chengdu in Sichuan province. The majority of our schools are in Tier 1 and Tier 2 cities but if you're looking for a real adventure, we do have tier 3 city opportunities.
As the most international city in China, there are many teaching jobs in Shanghai. Remember that while salaries in Shanghai are higher than many tier 2 or 3 cities, the cost of living is also considerably higher than in most of mainland China.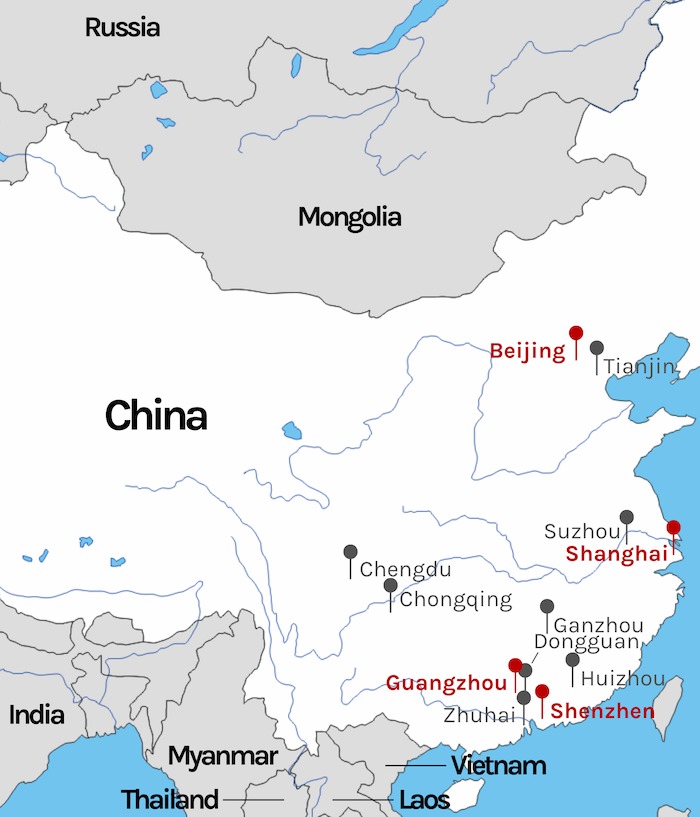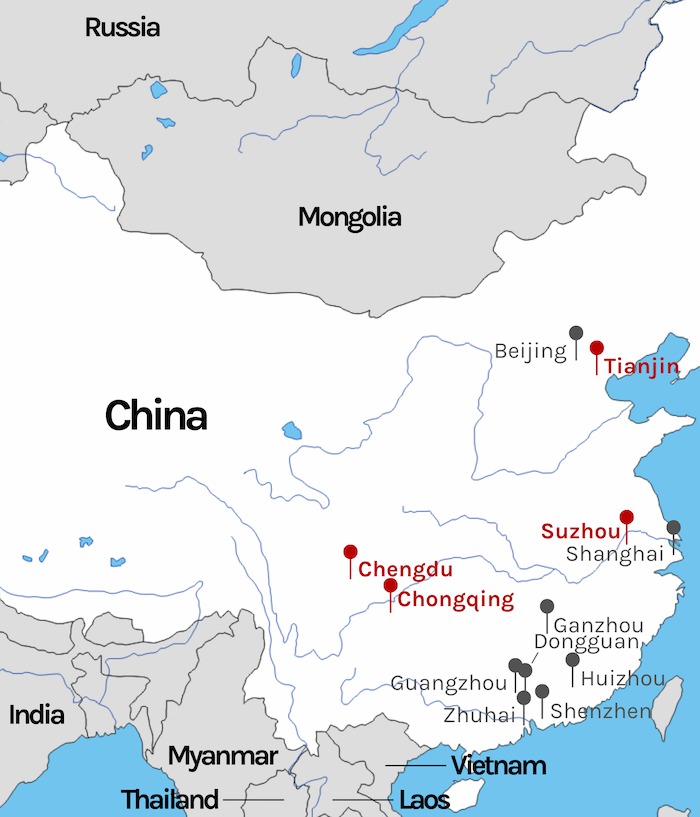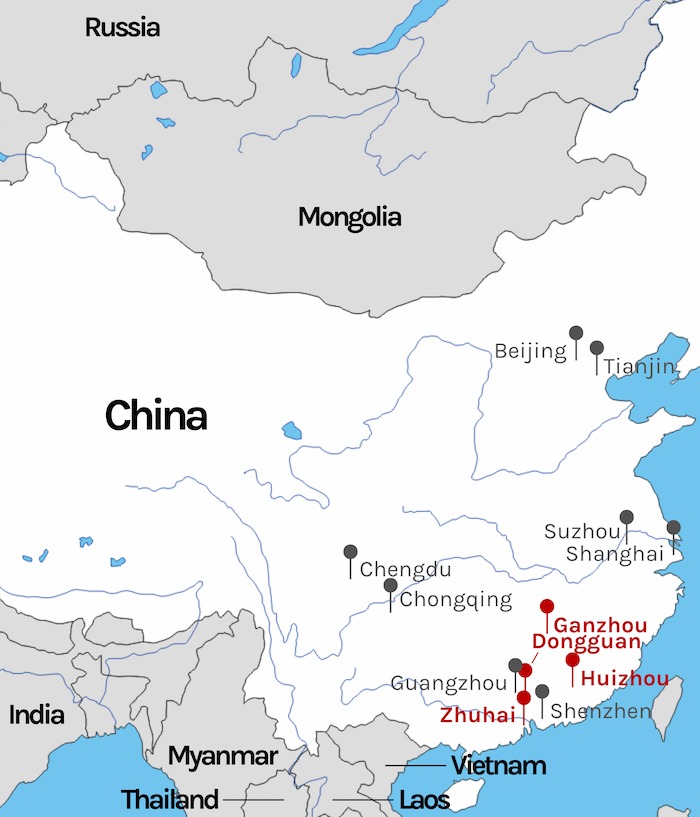 Types of schools in China
There are many different types of schools to choose to work at in China, so you'll want to do a little research on each one to figure out which type will best suit your lifestyle, salary, and time-off needs. There are often trade-offs that you will need to consider with each type of school. For example, if you want a higher salary, you'll need to work more hours, so maybe you should consider an international school. However, if you want more time off, you may want to work at a university where you'll have less working hours and a lower salary.
Training centers in China
Most foreign English teachers in China teach at training centers. These schools are attended by kids or adults in the evenings and weekends specifically for English language instruction.
Positions at training centers are often easiest to secure as there is a high demand for these classes, and they hire year round. Schools in this category include many large chains like English First, Wall Street English, WEB English. Each center has its own specialized curriculum, teaching and training materials which means planning and preparation are at a minimum.
The higher-paying jobs generally do not include housing. If you're willing to teach up to 40 hours a week, you can make around 18,000/month.
Preschools and kindergartens in China
The name says it all, the children in these institutions are 18 months to 6 years old. Teaching English in a kindergarten or preschool is a very common job in China especially in 1st tier cities such as Beijing, Shanghai, and Guangzhou.
Teachers can expect a friendly working environment and between one to three Chinese teaching assistants in the classroom with them. There will be plenty of fun teaching materials available and little time is needed for preparation. Classes typically have 8-20 young learners and are between 20-40 minutes long.
International schools in China
These schools are where professional expats and wealthy locals send their children. Tuition for the students is high and enrollment is very competitive. This means that teacher remuneration is fantastic (especially if you have children) but these jobs will often require a teaching license and graduate degree.
Classes are held on the traditional two-semester schedule and almost all classes are taught in English. These schools often require a 2-year commitment from the teachers. Most International Schools will follow either the International Baccalaureate (IB) or the foreign (A-level/AP etc.) curriculum, teachers with experience and familiarity with these curricula are preferred. 
Public schools in China
Public schools (particularly in bigger cities) score well on all fronts. Decent salary & benefits, reasonable teaching load, and more paid vacation days. Since Chinese public school education is notoriously competitive, your students will be diligent, well-behaved, and smart but you will sometimes have up to 60 of them in your classroom! Jobs in this category will sometimes require a graduate degree and/or a teaching license. 
Universities in China
There is a lot of variety within these jobs. Positions at smaller universities usually hire foreign teachers to teach required English classes, some universities are less selective when it comes to hiring foreign teachers. Even if the university originally hired you to teach a specific subject, entry-level teachers will rarely be teaching anything other than oral English. Salaries are usually between 7000-30000 RMB/ month (dependent on location, experience, and hours worked), but teachers are paid during the summer and winter breaks and never have to teach more than 20 periods a week. Jobs at universities are therefore more competitive than English training centers. The university curriculum is flexible and the foreign teacher is responsible for creating teaching materials. 
High-ranking public universities, especially in big cities, are a different story. Salary and benefits will be much higher but you may be expected to possess an advanced degree and considerable relevant teaching experience.
K-12
Fall starts in August/September
Spring starts in March
University
Fall starts in August/September
Spring starts in March
Training Schools
Rolling start dates year-round
Start anytime!
K-12 & Universities work on the same schedule as western countries with the fall semester starting in late August or early September and the spring semester starting after the Chinese New Year, March, (based on the lunar calendar). For fall positions we suggest applying 4-5 months in advance and 2-3 months in advance for spring. In addition, China has a huge number of training schools, which hire new teachers every month! No matter your schedule, we'll be able to help find the best teaching opportunities available.
Salary and benefits while teaching English in China
There are many different types of schools to choose to work at in China, so you'll want to do a little research on each one to figure out which type will best suit your lifestyle, salary, and time-off needs. There are often trade-offs that you will need to consider with each type of school. For example, if you want a higher salary, you'll need to work more hours, so maybe you should consider an international school. However, if you want more time off, you may want to work at a university where you'll have less working hours and a lower salary.
Type of school
Monthly salary
Avg. Vacation
Schedule
Training centers
12,000 - 18,000 RMB
4 weeks/year (vacation + holiday)
Evenings & weekends
Preschool/kindergarten
12,000 - 28,000 RMB
3-10 weeks/year
Weekday daytime
Public schools
10,000 - 20,000 RMB
6-10 weeks/year
Weekday daytime
International schools
15,000 - 30,000 RMB
6-10 weeks/year
Weekday daytime
Universities
7,000 - 30,000 RMB
6-10 weeks/year
Weekday daytime
China offers some of the highest-paid overseas teaching jobs in the world. This coupled with a low cost of living, gives you the chance to live comfortably while saving money every month!
Here's how experience & qualifications can affect your earning potential:
Bachelor's Degree:
This is the minimum requirement for teachers in China. Possessing this should set your starting salary at no less than 8,000 RMB/month + housing but usually 13,000 RMB/month or more for full-time work.
TEFL/TESOL Certification or 1-year teaching experience:
This is the minimum requirement for Teaching Nomad and to qualify for a work permit in China.  If you need to complete a TEFL certification, click here for information about self-paced and instructor-led TEFL courses.
Teaching license and/or degree in education:
If you are licensed to teach in your own country, the sky is the limit in China! Licensed teachers are in high demand at international schools as well as English medium schools for local students. Salaries typically start at 18,000 RMB and can go up all the way to 30,000 RMB a month or more.
Post-graduate degree:
If you're working in K-12 schools, an M.Ed or PGCE will likely earn you higher pay and more advancement opportunities. Learn about M.Ed programs you can complete while overseas.
Location:
Chinese cities are usually divided into different tiers. The pay and living expenses are generally much higher in tier 1 cities like Shanghai and Beijing than in tier 2 or 3 cities.
Hours:
As you can imagine, the number of hours you work will affect your salary. Training schools generally require you to teach 20 hours, and typically pay between 12,000-18,000 RMB. At kindergartens and preschools, you can expect a similar number of teaching hours. Though the teaching hours at public and international schools are not much different, they require more class preparation time and are stricter on office hours.
Benefits:
Many schools provide teachers with housing and reimburse for airfare. In first-tier cities, some schools provide a stipend instead or simply pay a higher salary. Health & accident insurance is always included, though the terms might vary by school. Employers that require you to live on campus—some international and public schools—will provide meals in addition to free housing.
Document Authentication
In order to get a visa to teach in China, you must get some of your teaching documents authenticated by the Chinese Embassy. This can be a difficult process on your own, so we offer a service that gets it done for you, hassle-free!
What are the differences between ESL, EFL, TEFL, TESL, TESOL, and TOEFL?
English as a Second Language (ESL) implies the teaching and learning of English in an English-speaking region.
Example – A child moves to the United States from Mexico, and they begin learning English in an ESL class.
English as a Foreign Language (EFL) implies the teaching and learning of English in non-English speaking regions.
Example – A child in Russia is taking an EFL class in school.
Teaching English as a Foreign Language (TEFL) is the term used for teaching English in a country where it is not the primary language.
Example – A United Kingdom native going abroad and teaching English in China.
Need a TEFL certificate still? Check out our in-class and online options. Also check out our TEFL Course Live that combines the fantastic curriculum of our Shanghai in-class TEFL course with online learning – get the benefits of the in-class course without having to leave your home!
Teaching English as a Second Language (TESL) is the term used for teaching English to non-native speakers that are located in an English speaking country.
Example – An Australian teaching English to students that have moved from Japan to Australia.
Teaching English to Speakers of Other Languages (TESOL) incorporates both TEFL and TESL practices. A TESOL certification is known for having rigorous standards for teachers, a prescribed curriculum, and a minimum of six hours of supervised practice teaching in an actual student-classroom environment. A TESOL certificate is widely recognized by EFL teaching schools and programs as the mark of a well trained, highly qualified EFL teacher.
On the student side, the Test Of English as a Foreign Language (TOEFL) is a widely recognized test of proficiency in the English language. At most U.S. and U.K. colleges and universities, a verifiable passing mark on the TOEFL exam is a requirement to matriculate for all students from non-English-speaking countries.
Do I need to speak another language?
No, as a matter of fact, the schools do not want you to speak Chinese in the classroom. In many cases, you will work with a local Chinese teacher in the classroom that can translate if needed. Assuming you would like to learn Mandarin, you can search for classes online, find a private tutor, or sign up for group classes.
What will my travel expenses be?
First, you will need to need to authenticate your documents, get your work permit from your school, and get your Z-Visa. Document authentication is pricey and time-consuming, so the sooner you start saving, the better.
After that,  your two main expenses will be airfare and hotel stay upon arrival. All of the teaching jobs that we offer provide some form of compensation for these expenses. In some cases, the school will pay for the airfare and hotel upfront. However, other times you will need to pay for it, and the school will reimburse you afterward. Your recruiter will be able to tell you the specific compensation provided by specific schools.
Do I need any kind of teaching certification or experience?
At this time, all of the teaching positions we offer require either 1 year of teaching experience or an internationally recognized TEFL/TESOL/CELTA certification. Candidates with experience and a teaching certification will be first in line for the higher paying positions, but it is not necessary to have both. To assist our teachers with this, we offer many different types of TEFL courses, ranging from online courses, in-class courses, and TEFL Course Live – a combination of the two.
Do I need a university degree?
What are the best teaching jobs in China?
The answer to this question really depends on what you are trying to accomplish while you are here. Are you looking for experience to help build a teaching career? Is money a big concern? Do you want as much time to travel as possible? By explaining your goals/plans to your Teaching Nomad recruiter, he/she will be able to help find the best teaching job for you.
How much will I get paid?
Salaries and bonuses will vary greatly by region and by the type of school that you work at. Some parts of China have a considerably higher cost of living than others. On average, full-time teachers will make between 7,000-30,000 RMB per month. Keep in mind that with the cost of living in China, an amount in this range will allow you to have your own apartment, a housekeeper, and a healthy savings account! Compensation can also include free airfare, a starting bonus, a housing stipend, and a contract completion bonus. 
To view our specific job openings and the salaries that are offered for each position, visit our job board.
How to write your teach abroad resume/CV
Your resume or CV (Curriculum Vitae) will probably follow a similar outline to what is used in your home country but there are some things you can add to make it stand out from the crowd.
Basic information:
You probably wouldn't have this information on a CV in your home country but work visa regulations have rules on age and nationality so you will want to add that.
Always include a photo. A passport-style "headshot" is perfect. The schools want to know what you look like, and after you're hired, this photo will be submitted with your other documents to secure your work visa.
Additional suggestions:
When listing work experience there is no need to write a paragraph about each job. A basic explanation along with some bullet points is perfect. Be sure to clearly list the dates of employment and if you really want to stand out, add the name and contact information to a reference at the company! 
Check out our blog post about how to write your teach abroad resume/CV.
Does Teaching Nomad have fees?
Teaching Nomad's services are completely free for teachers! We will help you through the entire process, whether it's interviewing with schools, looking over a contract, or ensuring your safe arrival in China. We make money by charging a fee to the schools that hire our teachers. In addition, using our services will not affect your monthly pay whatsoever; we're here to support you!
How do I get a work permit, work visa, and a residence permit?
To legally work in China as a teacher, your school will need to assist you in obtaining a work permit and a residence permit from the Chinese government. Only legal, licensed schools can actually hire foreigners which is one of the reasons that Teaching Nomad exists. We only work with schools that are trustworthy and reliable.
Here's how the process works:
1. You have to get your documents authenticated (usually your bachelor's degree, a background check, and a TEFL/teaching license/letter of experience).
2. You send scans of the authenticated documents to your school, and they will request your work permit from the Chinese government.
3. The work permit along with an invitation letter will be sent directly to you.
4. Once you receive those, you will need to submit this paperwork along with your passport and visa application either directly to the Chinese embassy in your home country or to a visa agent like us. There will be a fee to pay which varies by country. Within 3-7 days, you will get your passport back in the mail with a temporary Z-Visa inside. This temporary visa is good for 30 days and is designed for you to enter China.
5. Once you're in China, your school will assist you in converting this temporary visa into a residence permit. This process could take 2-6 weeks during which you will not have your passport. We do suggest you make a copy of it before it's out of your possession. The government also requires you to have a physical exam done. It's pretty basic and is usually completed in China. In some cases, your school may send you a medical exam form that you can use to have the exam completed in your home country.
What our teachers are saying
My recruiter/consultant was Jayne Donabie and she was so helpful and patient from start to finish. She was always available to answer my questions, whether via email or a Skype call. She is knowledgeable about each of the schools that she represents and can offer great insight into living in China as an expat. She made what could have been an overwhelming and complicated process really straightforward and stress-free. She made me feel confident in my decision to move forward with my applications and to move to China.
After a friend recommended Lauren Klein at Teaching Nomad to me, I decided to chat with her about teaching opportunities in China. She asked me a number of really helpful questions to assist me in figuring out the kind of position that would be best for me. She answered all questions I had within a day and was incredibly accommodating when my school preferences changed during the recruitment process. Lauren got me three interviews with great schools, and I'm sure I could have had as many as I wanted if I didn't like one of those three. In the end, I found a great job, and I barely had to do a thing more than showing up to the interview. All in all, I highly recommend Lauren and Teaching Nomad.
I would highly recommend Teaching Nomad to anybody looking for teaching positions in China. My recruiter was Moira and she was professional, helpful, and patient from the very start. If anybody is looking for teaching positions overseas, definitely contact Teaching Nomad. I only have good things to say about them.
Blogs about teaching in China
Learn all about teaching, traveling, and living abroad!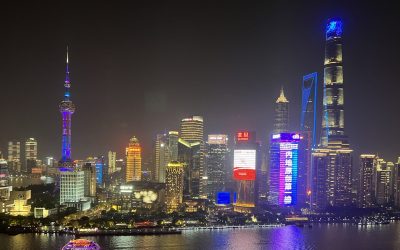 Teaching abroad in China can be a rewarding and eye-opening experience. With its rich history, vibrant culture, and increasing demand for English language education, there are numerous opportunities for foreign teachers in various cities throughout the country. If you...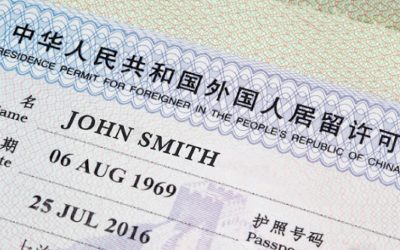 Read the latest update on foreign nationals returning to China.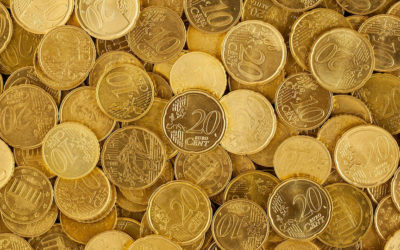 Learn how to transfer money from China to your a financial institution in another country.
Ready to get started or still have questions?
Register now to speak with a personal placement consultant!