It has been quite a while since I've written anything on our blog so I figure that now that Brett is off mountain biking and I don't have work for a few days, it would be a good chance to get caught up. Everything has been a whirlwind ever since we left Brazil, flew to Texas for a week, then Colorado for another week and then finally ended up in Shanghai, China after almost 24 hours of travel time. We never had jobs while we were traveling Latin America and now that I do it makes it a little harder to find writing time!
When we first arrived in Shanghai we were picked up by my company, Disney, at the Pudong International airport and brought to our hotel. As we were driving through the city, we were welcomed by fireworks that were going off all over the place. Shanghai is different than any city I've ever seen because so many of the buildings are decorated with lights. The best view in the city is when you're in the part of town called the Bund and looking across the river. Check out the picture below… You can see the Pearl Tower and boats passing by. Quite a cool scene!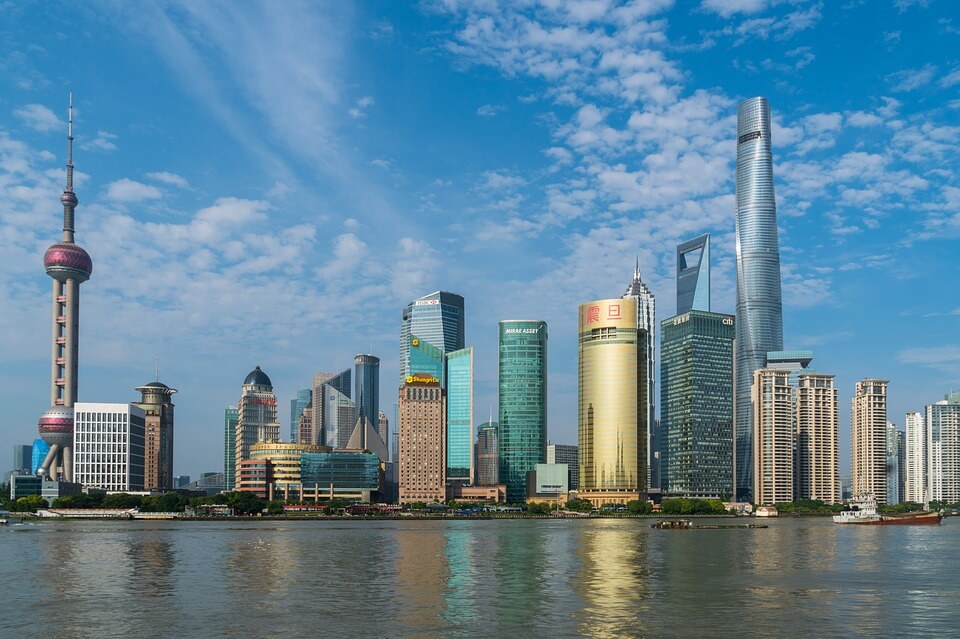 When we arrived at the hotel we found out that my training was going to start first thing the next morning! We woke up to a delicious Chinese buffet breakfast of bok choy, dumplings, pork and cabbage, and mandarin oranges and then headed off with the trainer to set-up our bank accounts and cell phones. This was our first time to walk around the city because our plane had arrived so late the night before and it was cool to see the Chinese characters everywhere.
I did my teacher training with three guys: Scott, Dominic and Paul. Scott, and Paul are from Chicago and Dominic is from Utah. Both Paul and Dominic had taught in Seoul Korea the previous year and Scott has already been teaching and managing schools in China for 6 years now. It turned out that Scott was training to take over for the manager at the school that I would be working at. After spending some time with him I realized I was pretty happy to have him as a manager. He's just a really nice, easy-going guy who is fun to go out with.
While living in California, I did a lot of one-on-one tutoring, but never with kids younger than 5 years old and now I'm training to teach kids as young as 3 years old! They are just babies and they've heard almost no English before coming to Disney, so when you talk to them they just stare at you like you're some kind of alien and they don't really understand much of what you say. It's a much different style of teaching than what I'm used to and it also seems like it's harder to form a bond with kids that can't express much of what they are thinking to you because they can't say it in English. I will be co-teaching with a Chinese girl named Fiona who will give the kids directions in Chinese and handle a lot of the discipline during class.
I'm taking over for a teacher named David who has been with Disney for 2 years now and most of his classes have older kids who understand a fair amount of English at this point. I've already started shadowing him at Xuijahui, the center where I will be working. Getting to meet the kids and finding out what they are like has been amazing. All of them are so cute and very sweet, excluding a couple of troublemakers. ; ) I start teaching on my own at the beginning of next week, so I'm getting really excited!
Since we've been here, Brett and I have met a lot of people through Disney. Just the other night we went out to an all you can eat and drink sushi and teppanyaki restaurant called Itsuki. I ordered plate after plate of sashimi and there was a cook grilling up food right in front of us the whole time. It was a little pricey at 150 rmb (about $23 per person) but if you stay there for over 3 hours like we did then you can probably get your money's worth. : ) The all you can eat and drink special seems to be pretty popular in this city, because in the short week and a half that we've been here we went to Itsuki and an Indian place with the same special called Punjabi.
The food here in China is fantastic, minus a couple of times when I accidentally ordered dishes with chicken or duck organs. Dumplings are definitely one of the most common kinds of food. There are so many different kinds that I'm certain I still haven't tried them all! A couple of my favorites are the soup dumplings that are steamed and the ones where they fry the bottoms and cover them with sesame seeds. My only problem with eating is that it is so messy when you use chopsticks as badly as I do. My jacket is filthy from the dumpling juice that gets all over it. The other night we were at a little hole in the wall restaurant and I was doing so badly with the chopsticks that one of the girls working there brought me a fork. I have no problem when it comes to eating sushi in the States, but picking up rice is a totally different story!
Most of our time here in China so far has been taken up with my job training and meeting with realtors to find an apartment. The process of finding an apartment is different than in the States because all of the apartments are individually owned, so you have to have a realtor show you around. I was really thankful that Brett was here and could go look at places while I was at training to help us get out of the hotel sooner. We ended up finding an English-speaking realtor, Kevin, on Craigslist. Right away we really liked him, but not so much the area of the apartments he was showing us at first. We told him that we wanted to live in the Xiujahui area by my work so 8 apartments later and 1 refused offer we found our apartment.
The building isn't much to look at, but once you make it inside it's pretty nice and the location is awesome. Only a 10 minute walk to work for me. The landlords are a really friendly couple who both know some English. The lady is a teacher at English First and her husband is a professor at the medical school. I've heard some stories about bad landlords and I feel very confident that we won't run into any problems with these guys. They gave us a good price and brought us a new microwave and we packed our stuff and moved into our new place a few days later. Even though our apartment is lacking in some areas, like water pressure and kitchen size, it still feels really good for Brett and I to have our first place together!
The apartments here come furnished, but you are required to buy your own bedding, dishes, pots and pans. Luckily, our apartment is located a block away from Carrefour (the Walmart of China) and walking distance from Ikea. We spent one whole day going back and forth to Carrefour and cleaning the place up. The next day we made a big trip to Ikea where we got our bedding and lots of other random things. After getting all of our stuff set up, our place is really starting to feel like home. After roaming around for the last 7 months it feels good to be getting settled in for a while!