China's massive growth spurt over the last 20 years has been well popularized by the international media. A GDP growth rate that has hovered around 10% since Deng Xiao Ping's Economic reforms in the early 1980s. China consumes twice as much steel as Japan, USA and Europe combined. China will build 50,000 sky scrapers by 2025, the equivalent of 10 New York Cities. More people will move from the country side to the city between now and 2030 than the entire current US population, the biggest and fastest urban migration in the history of the planet. In the period between 1981 and 2010 approximately 680 million Chinese people were lifted above the poverty line.
While these facts are certainly amazing it can be hard to visualize this change on an individual level. That's why we've scoured the net to dig up some photos of the China gone by so you can compare it the booming China of today and properly appreciate how amazing it is to live and teach in this epicenter of global change.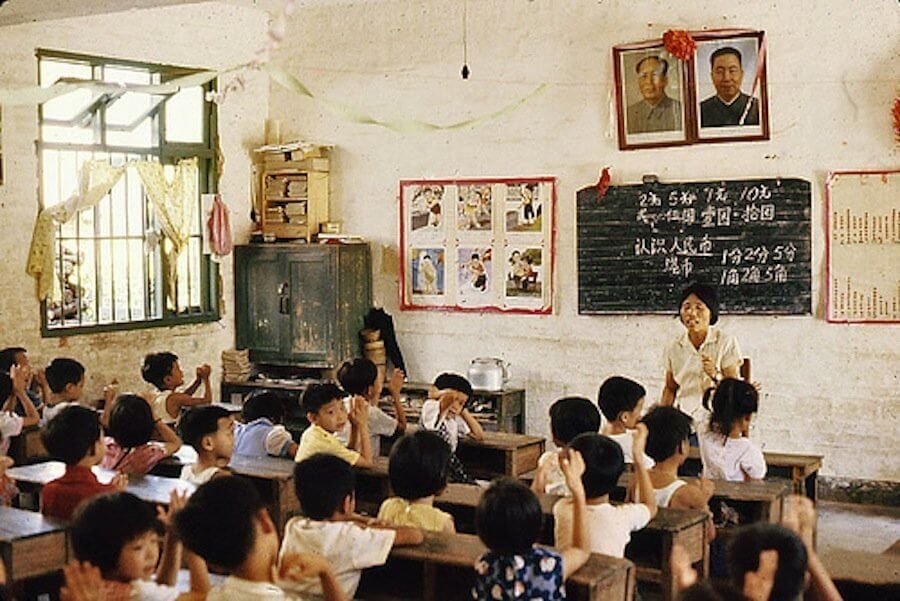 Classroom in Shenzhen, Guangdong 1980
Classroom in Hangzhou, Zhejiang 2011
The Chinese government is rapidly integrating technology into classrooms around the country on a national and a local level. The municipal government in Beijing alone annually earmarks 3 million Yuan specifically for putting more e-books, tablets, and education technology into classrooms. This funding of education technology is reflected by the students with "53 percent of Chinese students reported that devices are integrated throughout their curriculum, compared with only 29 percent of U.S. students and 27 percent of German students". Where the public sector goes in China, the private sector rapidly follows. This compares starkly with the underfunded public schools of the early 1980s. (1)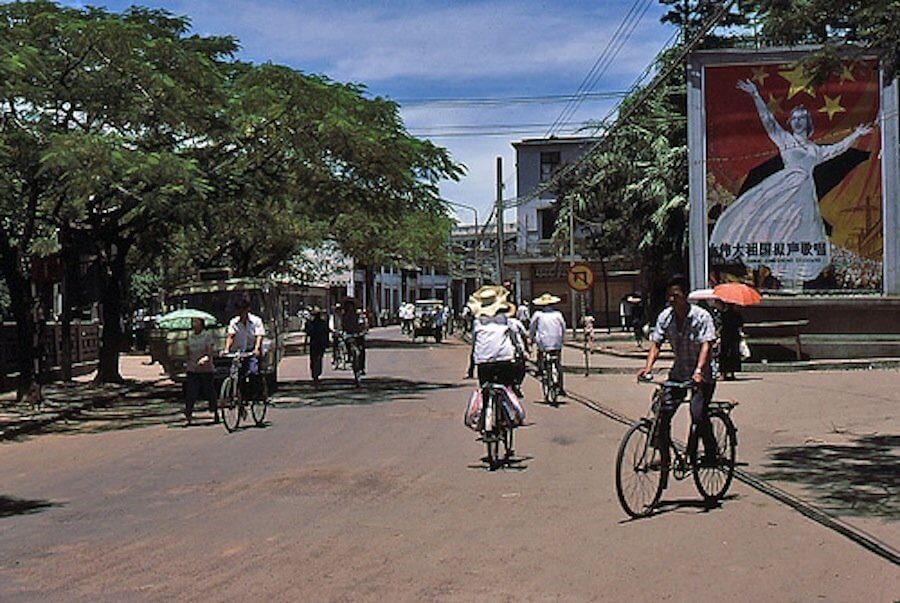 Downtown Shenzhen, Guangdong 1980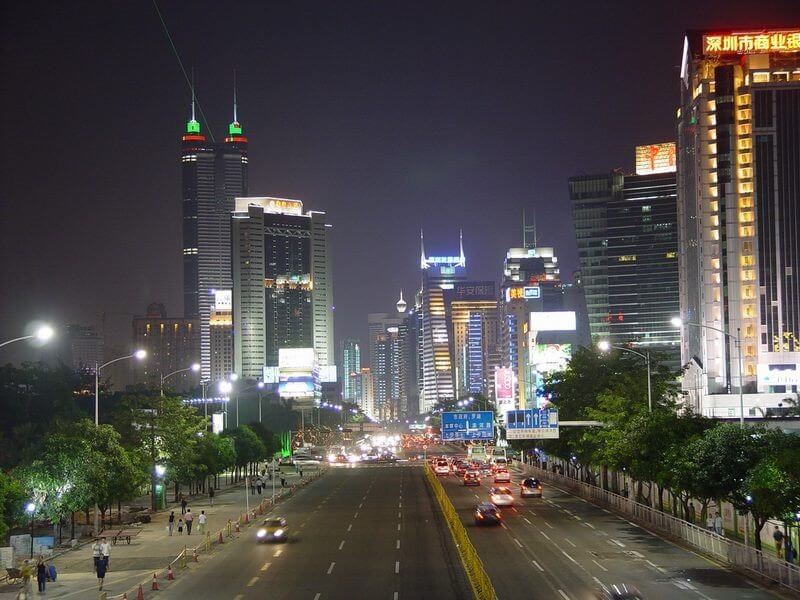 Downtown Shenzhen, Guangdong 2012
China's urbanization is the one of the simplest ways to see China's massive growth in wealth. Migration to urban areas was restricted between the 1950s and the 1980s, and when these restrictions were eased in 1985 and with foreign investment in China's special administration regions creating huge employment opportunities the flood gates opened. "By the end of 2012, the mainland of the People's Republic of China had a total urban population of 712 million or 52.6% of the total population, rising from 26% in 1990." This massive upswing is predicted to continue in the near future with nearly 70% of the population expected to live in urban areas by 2035.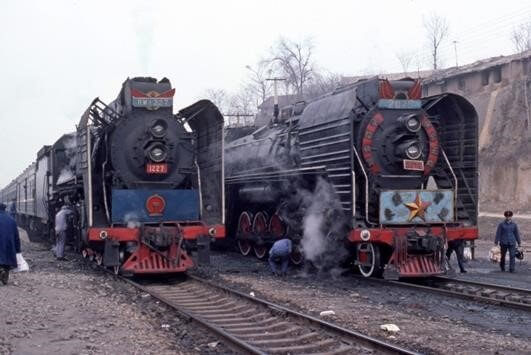 Chinese Steam Trains 1985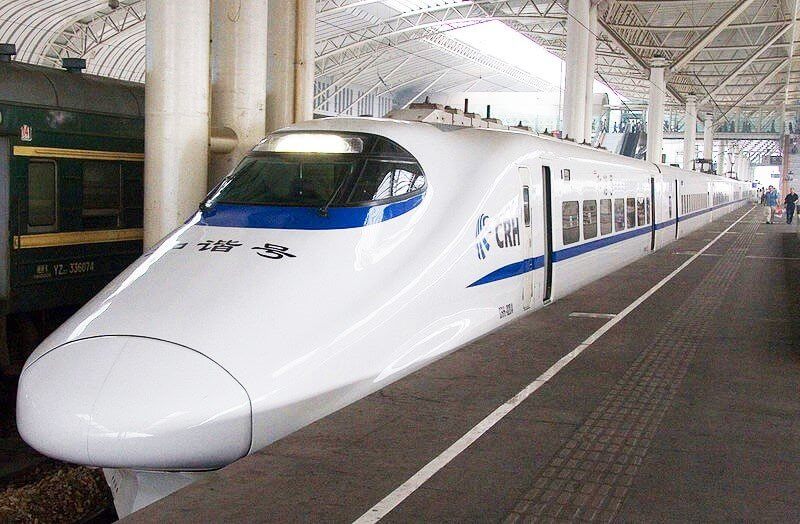 Chinese Fast Train, 2012
Prior to the 1980s steam locomotives dominated the railways in China, in large part due to the very low cost of labor, the ease of manufacture and low price of coal. Over the 1980s and early 1990s as the Chinese economy picked up steam (pardon the pun) these engines were gradually replaced with diesel and electric trains. In 1993, commercial train service in China averaged only 48 km/h (30 mph). With the massive boom over the last 20 years this service has improved and expanded rapidly. Today the network is quickly expanding and is expected to reach 18,000 km (11,000 mi) by the end of 2015, including 6,700 km (4,200 mi) of track capable of accommodating train speeds of 300–350 km/h (190–220 mph) and 11,300 km (7,000 mi) of track for train speeds of 200–250 km/h (120–160 mph). China now has the world's longest High Speed Rail network. It also has the world's fastest commercially operating train the MagLev (Magnetic Levitation) Train in Shanghai which maxes out at 501 km/h and travels the 30k (19m) between its two stations in just 7 minutes.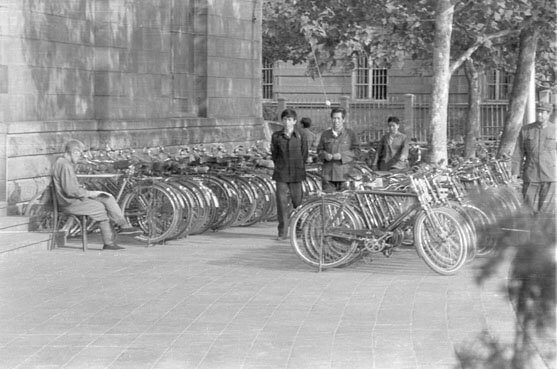 Bicycles in Beijing, 1979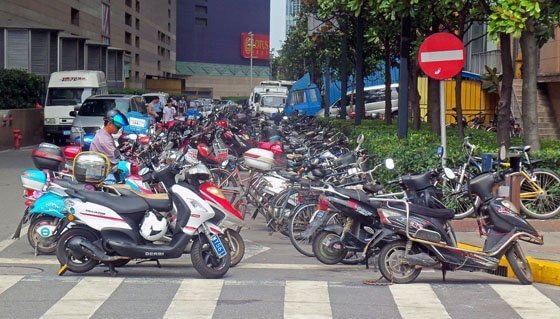 Ebikes in Shanghai, 2014
In the first half of the 20th century bicycle ownership and production rose gradually, between 1937 and 1945 the combined output of the Chinese bicycle industry reached 10,000 units annually. In the postwar period with heavy support from the Chinese government laid out in the first 5 year plan this growth rose steeply and by 1958 total annual output was 1 million units. This abundance of bicycles led to China being dubbed the "Kingdom of Bicycles" in the late 70s, and in 1995 there were nearly 2 bicycles for every household China. However, like just about everything else in China this is changing. By 2005 bicycle ownership had fallen to 1.1 per household. The growing popularity of cars has taken up a significant portion of this slack. The Chinese car market will be larger than the USA, Japan and Germany combined by the end of 2014. More interestingly Electric Bikes (E-bikes) are also taking up a larger chunk of the transportation pie. As part of environmental measures the use of motorbikes is heavily restricted in many large cities in China. This has helped to encourage a boom in E-bikes and the infrastructure to support them and as a result China is now the world's largest market for Ebikes. E-bikes retail for around 1500RMB ($250USD) making them within the reach of lower income people and in 2013 there were over 200 Million E-bikes on Chinese roads. This trend towards a greener alternative to cars and motorcycles shows no signs of slowing down.
Of course no photo blog of China's growth would be complete without the poster child for China's transformation; Shanghai. China's largest city and most international city has undergone extremely rapid change over the last 25-30 years. In 1990 the city had no underground metro system and a population of 13 million, and high rise buildings were few and far between. Today Shanghai has 14 metro lines with more being built every year and a bristling skyline, particularly in Pudong (East Shanghai) which was previously very sparsely populated. The city is currently home to 23.9 million people (including 150,000 officially registered foreigners) officials except Shanghai to reach 50 million people by 2050. With a life expectancy around 82.3 years, Shanghai rivals and even surpasses many western counterparts, and has consistently held double digit economic growth every year since 1992 (barring 2008-2009 during the world economic crisis). This city represents everything that the whole country is striving towards. There's never been a better time to teach in China.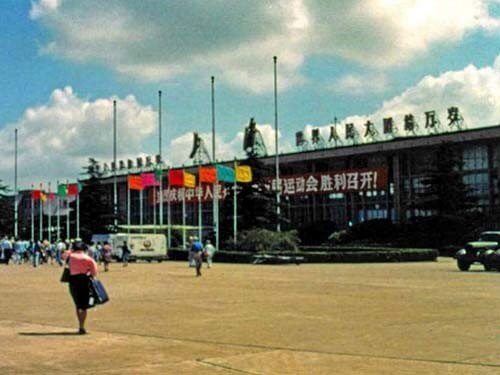 Hongqiao Airport Shanghai 1983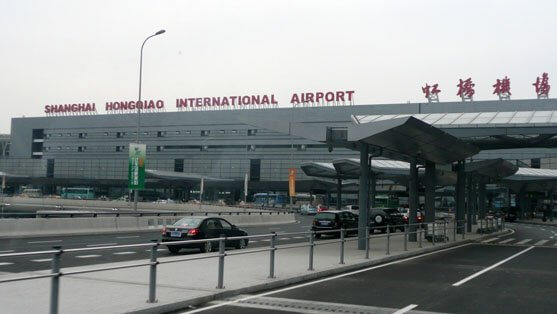 Hongqiao Airport Shanghai Today (1 of 2 Terminals)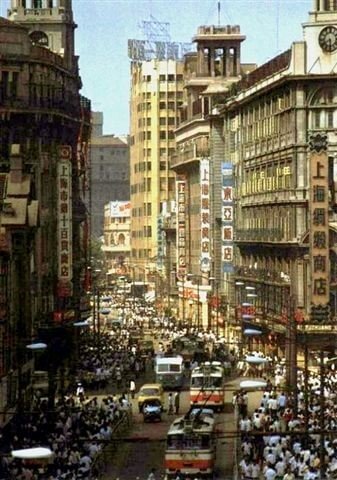 East Nanjing Road, 1985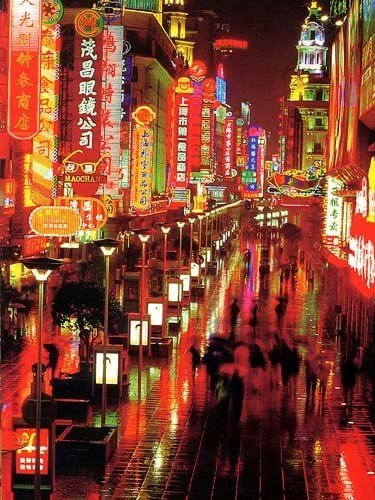 East Nanjing Road, 2010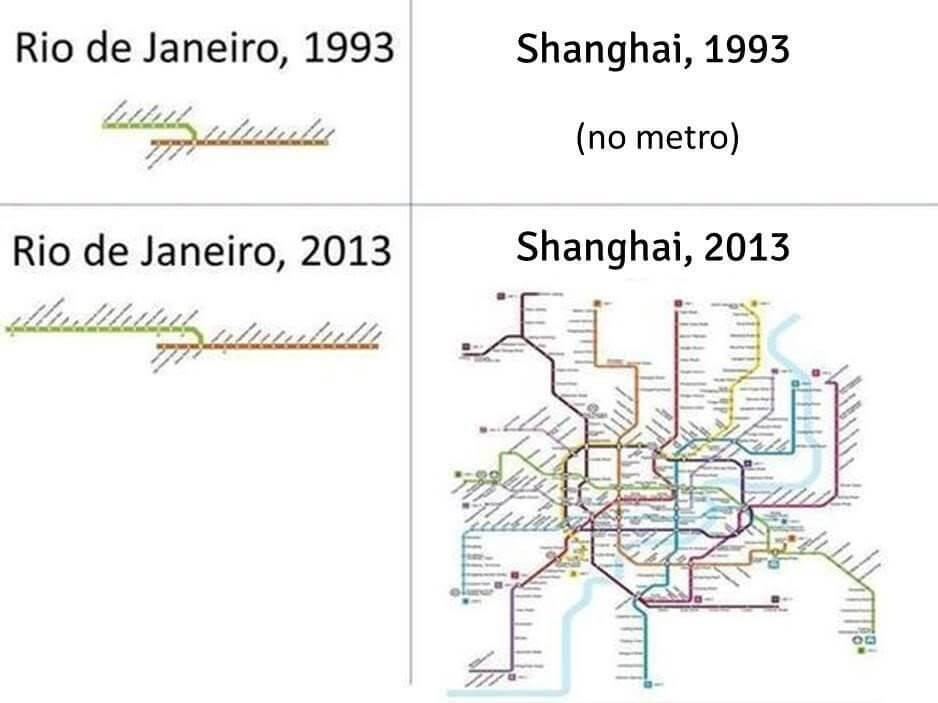 Shanghai Metro System with Rio de Janeiro Metro System for Comparison Pudong (East Shanghai) in 1990 Pudong (East Shanghai) in 2010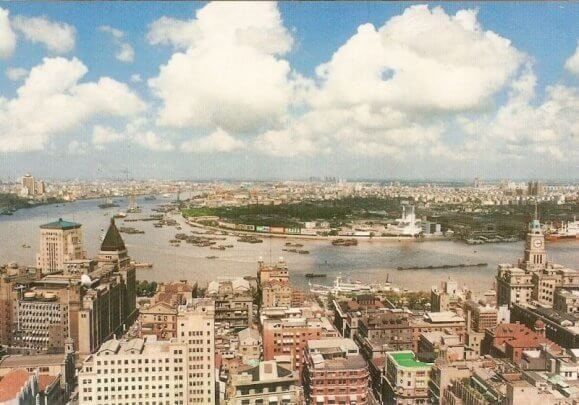 Pudong (East Shanghai) in 1990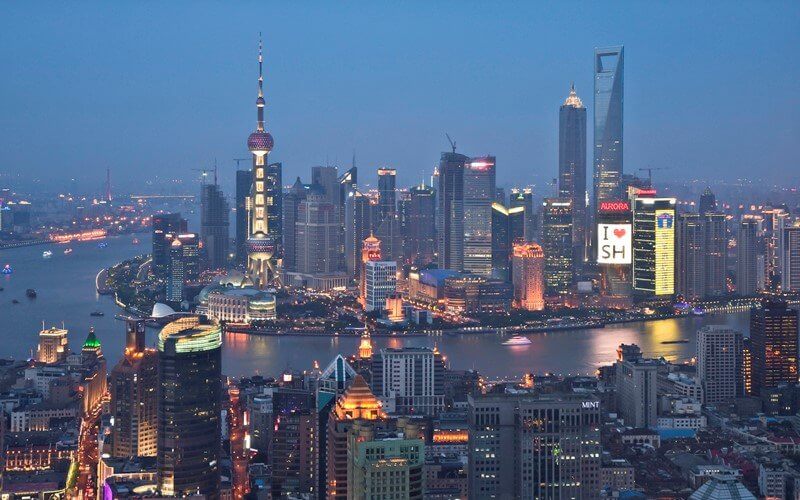 Pudong (East Shanghai) in 2010
By Patrick Cazaly, Personal Placement Consultant at Teaching Nomad
About our company: Teaching Nomad is an American owned and operated education Recruitment Company based in Shanghai, China. Our goal and purpose is to help great teachers find great teaching jobs. Year round, we have hundreds of teaching job vacancies. Whether your goal is to be an ESL teacher or teach in an international school, we have a teaching job for you. You can browse jobs online at www.teachingnomad.com/job-search for the latest job openings. Teaching Nomad is here to make teaching in China easier, so please feel free to reach out and contact us with any questions or inquiries!