Doha, Qatar is one of the most wanted destinations to go teach abroad. There are a few perks of living in Qatar, minus the tax-free salary offering which is also in place in a few other countries in the Middle East. Though the country is small, the offering of attractions keeps growing! There are many things an expat can do in Doha during their off days which does not only consist of lounging by the beach. Below you can find a list of things to do as an expat in this booming country.
1)Souq Waqif: If you want to experience the real heart and soul of the city, then the Souq Waqif is a must place to go. You can walk around the maze-like alley ways and find everything you can imagine and more! Not only can you find delicious Middle Eastern restaurants serving hummus, flat bread, and Baba ghanoush but you can also stop by a relaxed café vibe place and have mint tea and smoke a local shisha. Once relaxed and stuffed, walk around the Souq and buy some Middle Eastern spices, sweets, jewelry or even an antique.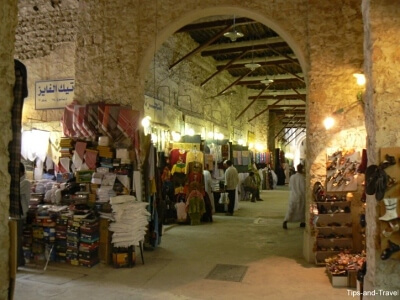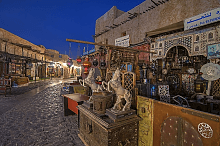 2)Museum of Islamic Art: Before entering the Museum of Islamic Art, have a walk around the Corniche and observe the beautiful skyline. Once inside the museum you can view and admire many floors of art coming from different parts of the Middle East.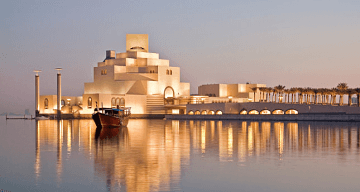 3)The Peal-Qatar: The Pearl in Doha is an artificial island which has many residential buildings. Though more of a suburban neighborhood, the island also has many boats and yachts which you can use for rental. There are also a wide selection of dining outlets ranging from South American to French cuisine!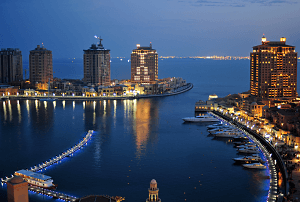 4)For the shopaholics, Qatari malls: One of the great reasons to visit Qatar is for the shopping and grand shopping malls. Going to Doha, you will be able to find all the major brands! Villagio though is the mall that stands out the most… Its Venetian themed shopping extravaganza has an indoor Gondolania canal boat ride which goes through the mall! At the end of 2016, like the Mall of Dubai, the Mall of Qatar opened! This mall has over 500 stores offering a great entertainment experience. All of these malls in Doha can have offer a good time for just you or for your whole family!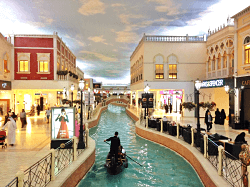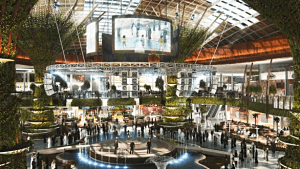 5)Desert tours: Want to have a weekend of filled with activities? Why not getaway and go on a safari to have a real Arabian adventure. Have a thrilling ride going dune bashing or have more of a tranquil stroll on the back of camel. Once you are done with activities, you can watch the sunset at an organized campsite drinking tea and eating a Middle Eastern BBQ. People can sleep overnight in tents set out for the occasion or go back to the city depending on the type of trip you are looking for.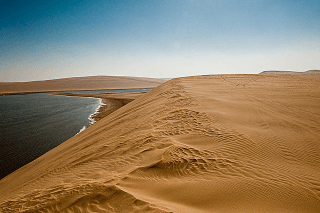 Though Doha has many things to offer if you want to have weekend getaways then you can also visit the many beautiful countries surrounding it including Oman, Jordan, United Arab Emirates among others. If you are looking for a relaxing city where you can find excellent schools to work at then Doha, Qatar is the place for you!
About our company: Teaching Nomad is an American owned and operated education recruitment company based in Shanghai, China. Our goal and purpose is to help great teachers find great teaching jobs. Year round, we have hundreds of teaching job vacancies. Whether your goal is to be an ESL teacher or teach in an international school, we have a teaching job for you. You can browse jobs online at www.teachingnomad.com/job-search for the latest job openings. Teaching Nomad is here to make teaching in China easier, so please feel free to reach out and contact us with any questions or inquiries!