Yes it's finally that time, the event football (that's soccer for you sodden Americans out there) fans around the world eagerly wait for is finally here….the FIFA World Cup. Every four years a nation is united and collectively holds its breathe in anticipation, giving the chance for players to carve themselves a reputation amongst the games immortal heroes, or collapse under the relentless pressure of an expecting nation on the biggest of world stages.
For those of us who are teaching in Shanghai, the football fever is even reaching us here…take a look at East Nanjing Lu for example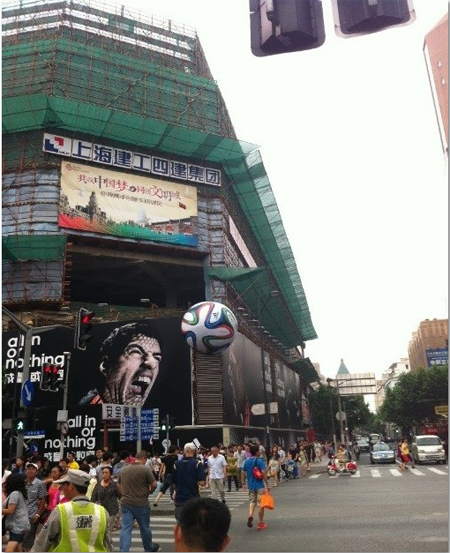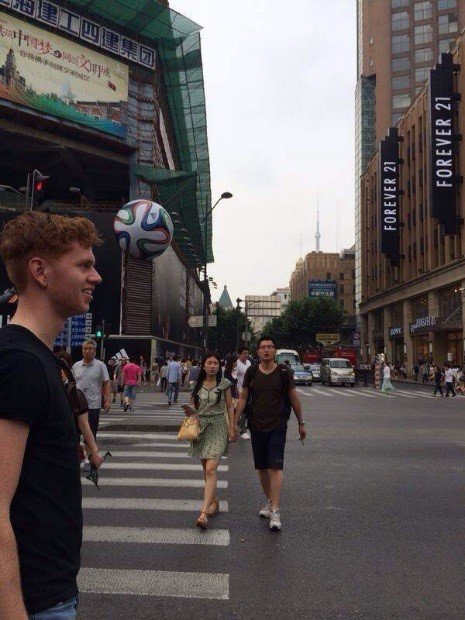 When living in Shanghai, there are a few things that must be taken into consideration for the big event:
Buying a national kit – Every fan should support their team with pride, and what better way to represent your country than by buying your countries strip and wearing it to the games. (You may find a few new friends from your country, and have a bit of banter from your friendly rivals!) If you're looking for a cheap option, the fake market on West Nanjing Lu offers a wide variety of shirts for the teams competing in this year's tournament.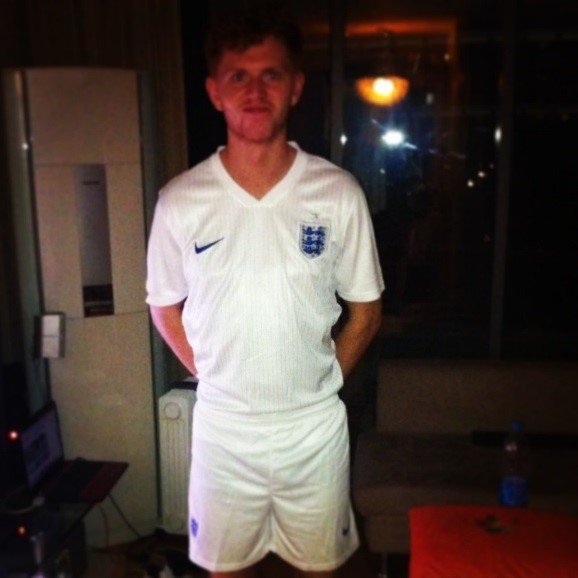 Kick-off times – One of the biggest complications for those of us in Shanghai wanting to watch the games is the time difference between China and Brazil…. most games will kick-off between midnight and 6am. Now imagine if your team goes into extra-time and then the heart-ache and agony of a penalty shootout (You England fans know what I'm talking about) and that is one long night! With most peoples working schedules this is not ideal to say the least, and leaves many diehard fans with a humdinger of a dilemma. If you do decide to join me and head out to support your team and absorb the atmosphere the venues of this city have to offer with a few friends and a few drinks, then most of the usual suspects in town will have the games on big screens and will even have special world cup drink/food promotions running throughout the event (Oscars Pub, Camel Sports Bar, Shanghai Brewery, and big bamboo but to name a few)
World cup vocab – On your adventures around the city you may wish to impress the locals with your Mandarin skills when watching the games. Here is some vocabulary to help you get by:
The World Cup -世界杯-(shì jiè bēi)
Brazil -巴西 -(Bāxī)
Fan -球迷-(qiú mí); Big Fan -铁杆球迷-(tiě ɡǎn qiú mí)
Goal -进球-(jìn qiú)
Penalty Kick -点球-(diǎn qiú)
Hand ball -手球- (shǒu qiú)
Header -头球-(tóu qiú)
Coach -主帅-(zhǔ shuài)
Foul -犯规-(fàn ɡuī)
Yellow Card/Red Card -黄牌(huánɡ pái)/ 红牌(hónɡ pái )
(某人)被红牌罚下。 (Mǒu rén) bèi hóngpái fá xià. (Someone) got a red card and been sent off.
All that is left to say is good luck to everyone out there (especially if you are English) and enjoy what is without doubt the best few weeks of matches the beautiful game has to offer.
By Oliver Gorman, Personal Placement Consultant at Teaching Nomad
About our company: Teaching Nomad is an American owned and operated education Recruitment Company based in Shanghai, China. Our goal and purpose is to help great teachers find great teaching jobs. Year round, we have hundreds of teaching job vacancies. Whether your goal is to be an ESL teacher or teach in an international school, we have a teaching job for you. You can browse jobs online at www.teachingnomad.com/job-search for the latest job openings. Teaching Nomad is here to make teaching in China easier, so please feel free to reach out and contact us with any questions or inquiries!