When you arrive in the UAE, you will find that without a car, you are much like a fish out of water. Everyone has them, even expats who are only there for a couple of years.
While this may seem daunting – because you have a car back home, because driving in a foreign country is nerve-wracking, because you don't want to put down the money – it's one of the necessities of life in the UAE.
Even big cities like Dubai and Abu Dhabi are driver-friendly, and you'll find that it's much easier to get around with a car.
UAE transportation options
If you do choose to forego the car, you have only a few options. Taxis run on a metered service and mainly accept cash payments. The metro has just two lines – stark for those coming from cities like London, New York, and Paris, whose underground trains sprawl the city with stations at no more than half-mile increments throughout.
The Dubai metro boasts 45 stops (compare this to London's 270 and New York's staggering 472). Abu Dhabi doesn't yet have a metro, and the rail line that would connect you to the rest of the country is quite limited.
In Dubai, you also have the option of the tram, whose reach is also limited but connects highly populated residential and commercial areas. The plus side is that the tram offers a flat rate, no matter the length or distance of travel.
Other cities such as Abu Dhabi and Sharjah offer taxis, buses, and ride-hailing services such as Uber and Careem. For day-to-day life in the UAE, most expats choose to rent or even buy a car.
Acquiring a car in the UAE
Plenty of companies have taken advantage of the driving culture in the country, and as a result, you won't have too much difficulty finding companies that offer long-term rentals, charging by the month. Lots of them even offer Ferraris, Rolls-Royces, Mercedes, and other luxury vehicles.
Much of the time, owning a car is considered a status symbol, and cars in the UAE are slightly cheaper – plus, gas is much less expensive than it is in countries such as the U.K. and U.S. This is an important consideration when you're preparing to drive often.
If you don't want to rent long-term, you could also choose to purchase a used car. There are plenty of pre-owned dealerships due to the turnover rate of expats in the country. Do the math and determine whether this might be the best option for you – especially if you'll be in the country for 3 or more years.
Do consider, though, that renting means for a monthly fee, you get a new (or almost new) car and included in that monthly fee are servicing and maintenance costs, insurance, and registration. All of these are things that you would have to consider if you purchase a car.
Renting a car is shockingly easy – all you need to bring is your passport (containing your residence visa), a UAE driving license or foreign license supported by an International Driving License, and a credit card. 20 minutes later, you're driving a brand new Maserati – or a Toyota Camry, as the case may be.
License requirements
There are 32 countries listed for transferrable licenses in the UAE.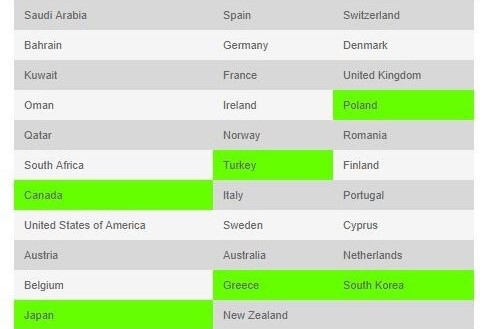 Image credit: gulfnews.com
** According to gulfnews.com, the ones in green (except Canada) require translation of the existing license into Arabic and/or English by the relevant embassy or legally approved translation agents. Canadian license holders need a letter from the Canadian Consulate in Dubai to prove that the license is genuine. **
If you have a license from one of the above-listed countries, getting a license in the UAE is simple. All you need to do is go to RTA (the Roads and Transit Authority) with the following:
Passport copy and original
Residence visa copy
Original license and copy
Translation or consultant letter if required (see above)
Passport photos
Eye test certificate

You can obtain this at most opticians – simply ensure that the certificate will be accepted by RTA.
It will cost about AED 50.
You'll need to bring a passport photo
20 minutes later, you'll have your brand new UAE license!
Still looking for teaching jobs in the UAE? Check out the newest open positions on our job board.