China is one of the world's largest countries, spanning about 9.6 million square kilometers. It isn't surprising, then, that China boasts 225 national parks. (For reference, there are 58 in the US and 15 in the UK.)
It can be daunting in the face of so many choices to figure out where to go on your next trip, so we've compiled a list of the top five national parks that you might want to pay a visit to while you're in China!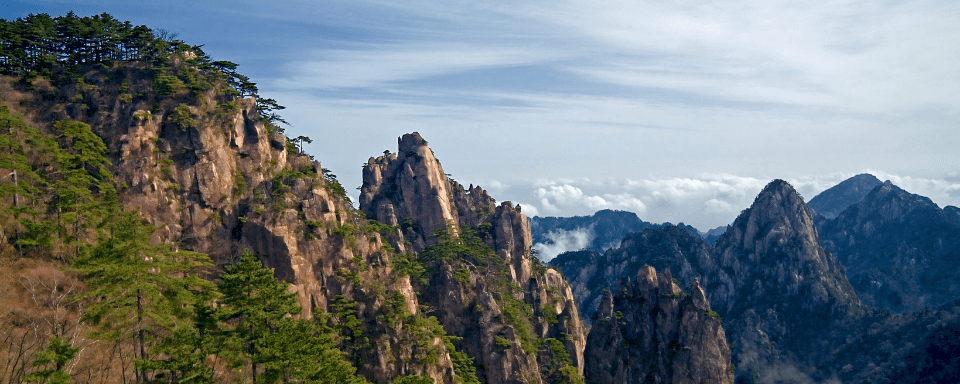 1. Mount Huangshan –
Not only is this historical and breathtaking mountain a national park, but it's also a UNESCO World Heritage site.
Why visit:
Mount Huangshan has been important to Chinese culture and history since the 8th century, when during the Tang Dynasty a legend described the mountain as the location of the elixir of mortality. The landscape as well as the legend fascinated poets and landscape artists, inspiring the Shanshui ("Mountain and Water") school of landscape painting, which depicts heavy clouds and mist floating around and above soaring mountains, with trees and waterfalls cascading from their peaks.
How to get there:
Located in Anhui Province, it can be easily reached by train from Hangzhou and Shanghai but is far enough into the countryside that you'll feel like you've entered a new and ancient world.
What to do:
Check out the four wonders: four unique views from the park. These are Strange Pines, Absurd Stones, Sea of Clouds, and Hot Springs respectively. We suggest taking a hike to view the Absurd Stones at the peak of the mountain, and then relaxing in a 42.5 degree Celsius hot spring.
Bonus: Stay alert: you might be able to spot the greater spotted eagle, the gray wolf, and the Asiatic wild dog.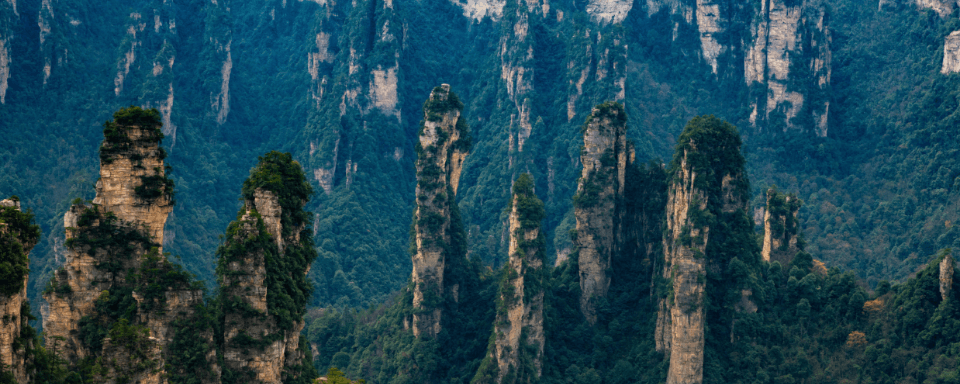 2. Zhangjiajie –
This national park in central China is home to some of the most gorgeous views in the country.
Why visit:
The scenery is second to none, and whether you're taking a tour through the famous pillar formations in the Yuanjiajie Scenic Area, hiking to as many waterfalls as you can find, waking up early for the sunrises and staying outside until sunset, or sampling the spicy, strong-flavored Hunan cuisine in Zhangjiajie, you won't regret your visit.
How to get there:
Zhangjiajie is actually a city nestled between mountains, and it has a small airport but no high-speed railway. As a result of this, it can be a bit more difficult to get there from some of China's major tourist cities such as Beijing, Shanghai, and Chengdu. That being said, consider taking a connecting flight or connecting to a slower train to get to Zhangjiajie – and you won't regret it!

What to do:
Zhangjiajie National Park is just part of the Zhangjiajie National Forest, which offers plenty of things to do and places to explore. This is where you can walk across the world's longest glass bridge – if it sounds scary, that's because it is! Our tip: don't look down. You can also take the world's longest cable car to the top of a mountain, snapping plenty of gorgeous photos as you go.

Bonus: If you're one of the many people worldwide who saw James Cameron's 2009 box office smash Avatar, you might recognize one of the mountains, formerly known as the Southern Sky Column but now referred to the Avatar Hallelujah Mountain.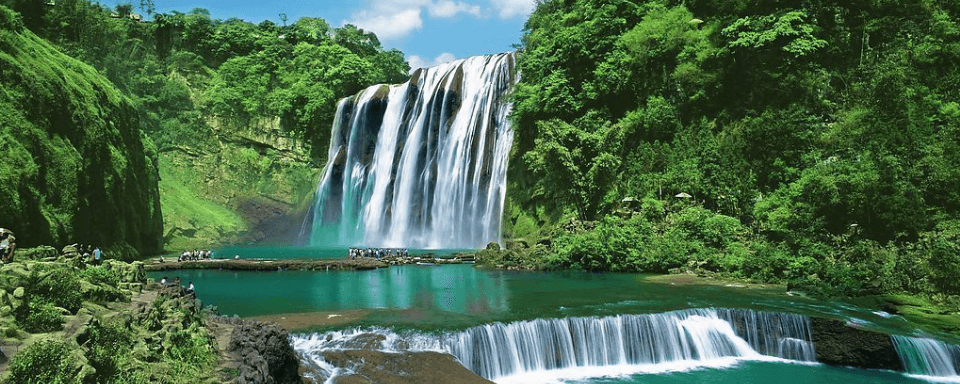 3. Huangguoshu –
Head to western China to see one of Asia's biggest waterfalls!
Why visit:
Huangguoshu Waterfall is enough to draw you in alone, at approximately 250 meters in height and width. That's not all, though – there are 18 waterfalls in the park in total.
How to get there:
The park is located Anshun City, Guizhou Province, and is 150 kilometers from the downtown of Guiyang. You can take a train from Guiyang to Anshun, at which point you can take a bus to the park.

What to do:
Enter the cave behind the falls to explore without getting wet and peer out at the curtain of water that makes up the falls. Walk along the viewing platforms and walkways, and hope that you'll catch a view of a rainbow within the mist.

Bonus: The Huangguoshu Waterfall Resort has received top ratings from the government and many media outlets. Enjoy the beautiful surroundings as well as a breath of fresh air in this beautiful resort that has been described as "lung-washing."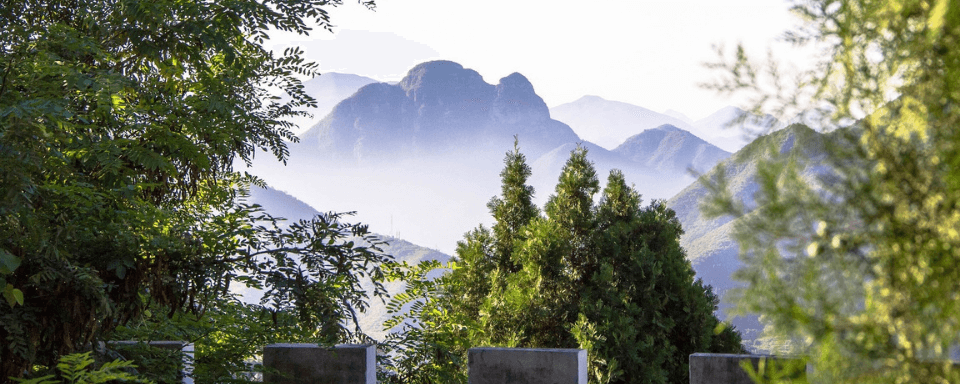 4. Lushan –
Lushan boasts more than 200 Buddhist, Taoist, and Confucius relics and temples.
Why visit:
Lushan National Park is 500 square kilometers/320 square miles and encompasses rivers, mountains, caves, and lakes. If the natural landscape itself isn't enough to draw you in, the spiritual and historic value of the park certainly will be.
How to get there:
A bus leaves the long-distance bus station of Jiujiang City to Mount Lu every 30 minutes and the ride takes about an hour for 9 RMB.

What to do:
Bus routes circle the park so that you can see everything it has to offer, which is recommended to do at the beginning of your visit. The Five-Old Man Peak is a must-see – from the Haihui Temple at the base of the mountain, the five peaks are often shrouded in fog, talking to one another as five old men sitting in a park.
Visit the Donglin Temple, which was built by a Buddhist monk during the Eastern Jin Dynasty and is one of the oldest temples on the mountain.

Bonus: The Bailudong Academy (White Deer Cave Academy) is located on Mount Lu, and is one of the four most famous ancient academies in China.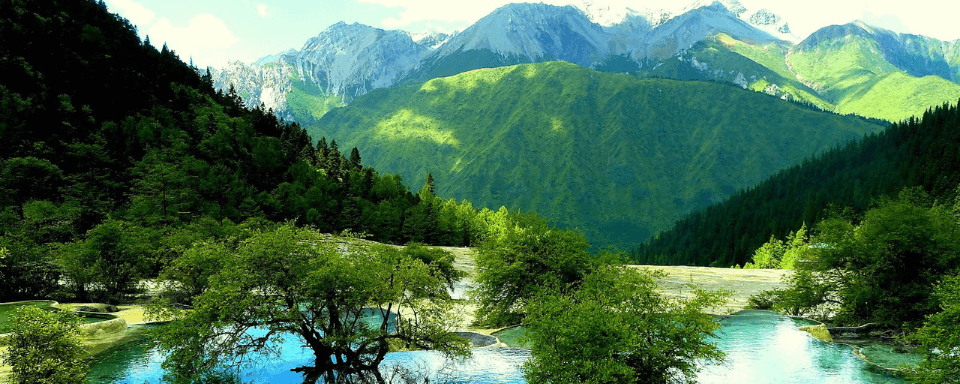 5. Huanglong –
Nicknamed 'World Wonder' and 'Fairy Land on Earth,' Huanglong is a beautiful destination with colorful pools, lakes, mountains, and forests.
Why visit:
The Huanglong Valley offers 2.2 miles of scenery that includes snow-clad peaks and the easternmost glaciers in China. The valley, from above, looks like a golden dragon (huanglong) snaking through virgin forest, stone mountains, and glaciers.

How to get there:
Huanglong is located in the northwest part of Sichuan Province and sits above 5,580 feet. Meaning: bring lots of water! You can take a bus from Chengdu to Songpan, and from there, to Huanglong.

What to do:
Throughout the Huanglong Valley are colorful ponds with gold colored limestone deposit, offering a golden hue to the water. In the Mounigou Valley is Erdao Lake, the largest in the area and surrounded by underground limestone caves. The water changes color depending on the season.
Also in the Mounigou Valley is Zhaga Waterfall, at the base of which is a round stone the water falls upon and splatters off from, looking like jade – called the Jianyu Tai (spattering jade platform). At Guhuashi you can see prehistoric, fossilized animals, plants, and finish, well-preserved and intact. Dip into Feicui (Emerald) Spring and experience the water's medicinal value before heading back home.

Bonus: Visit the Yellow Dragon Cave, to see three sitting Buddha figures encrusted with calc-sinter crystals.
Ready to find your next teaching position in China? Check out what it's like to live and teach in China!